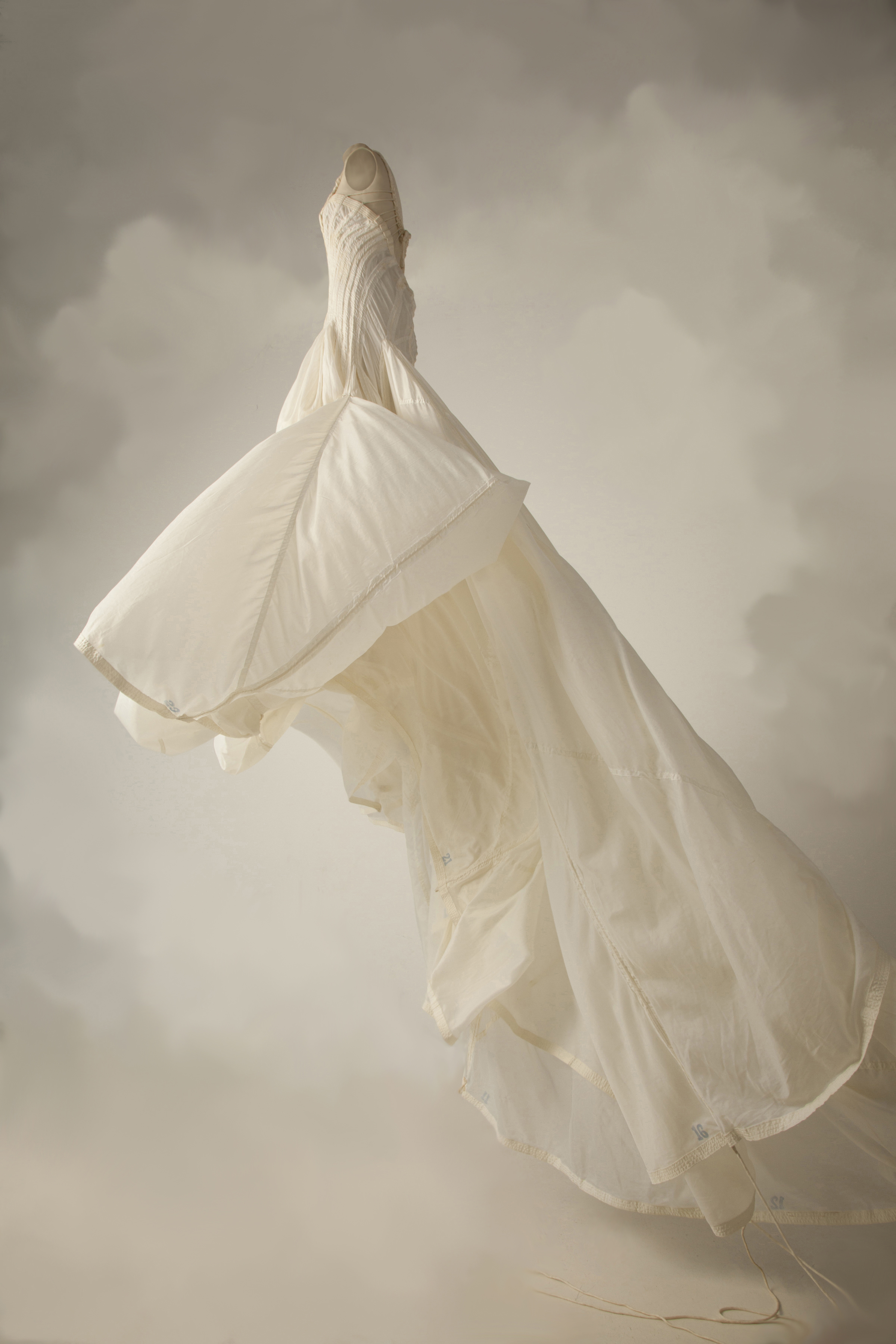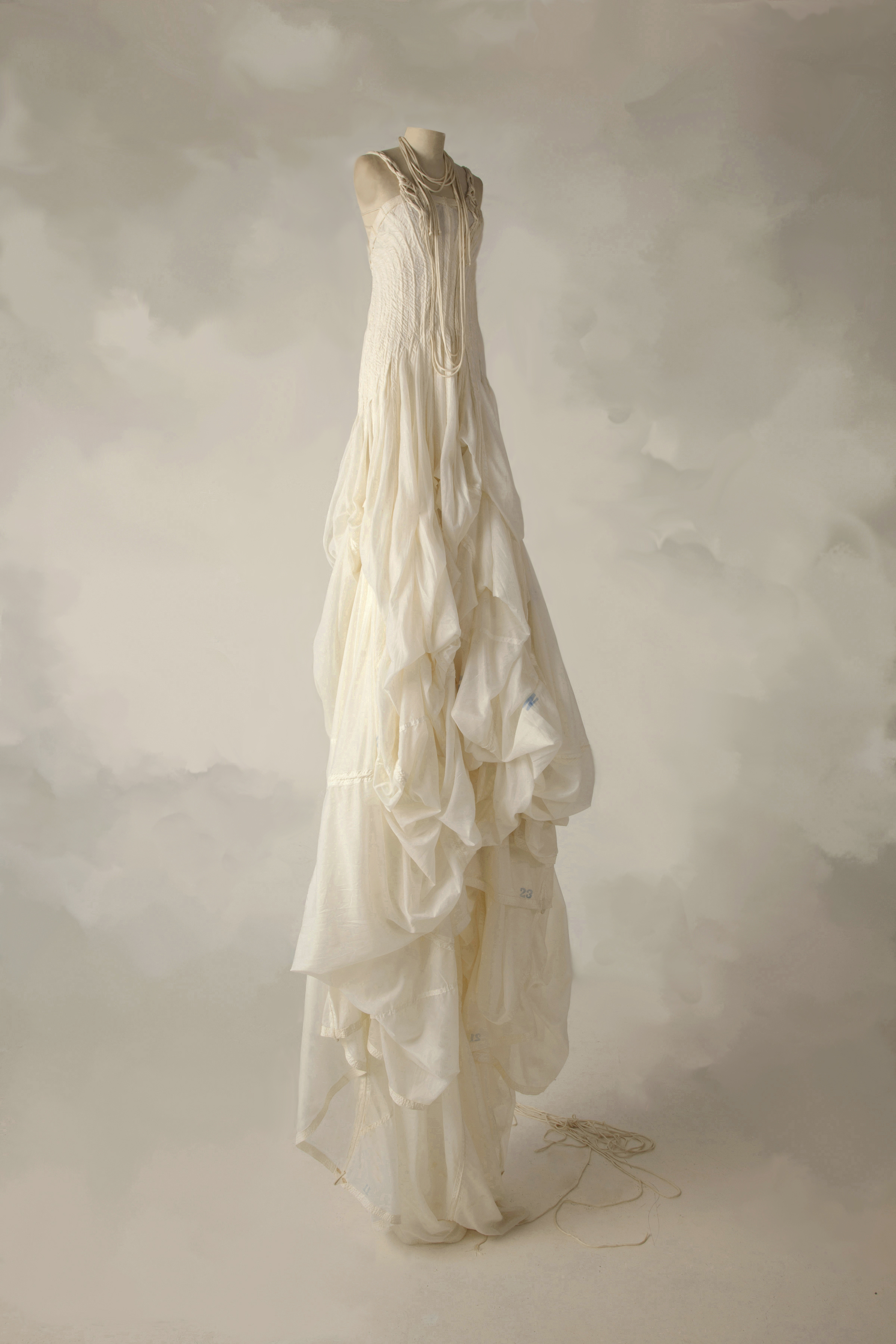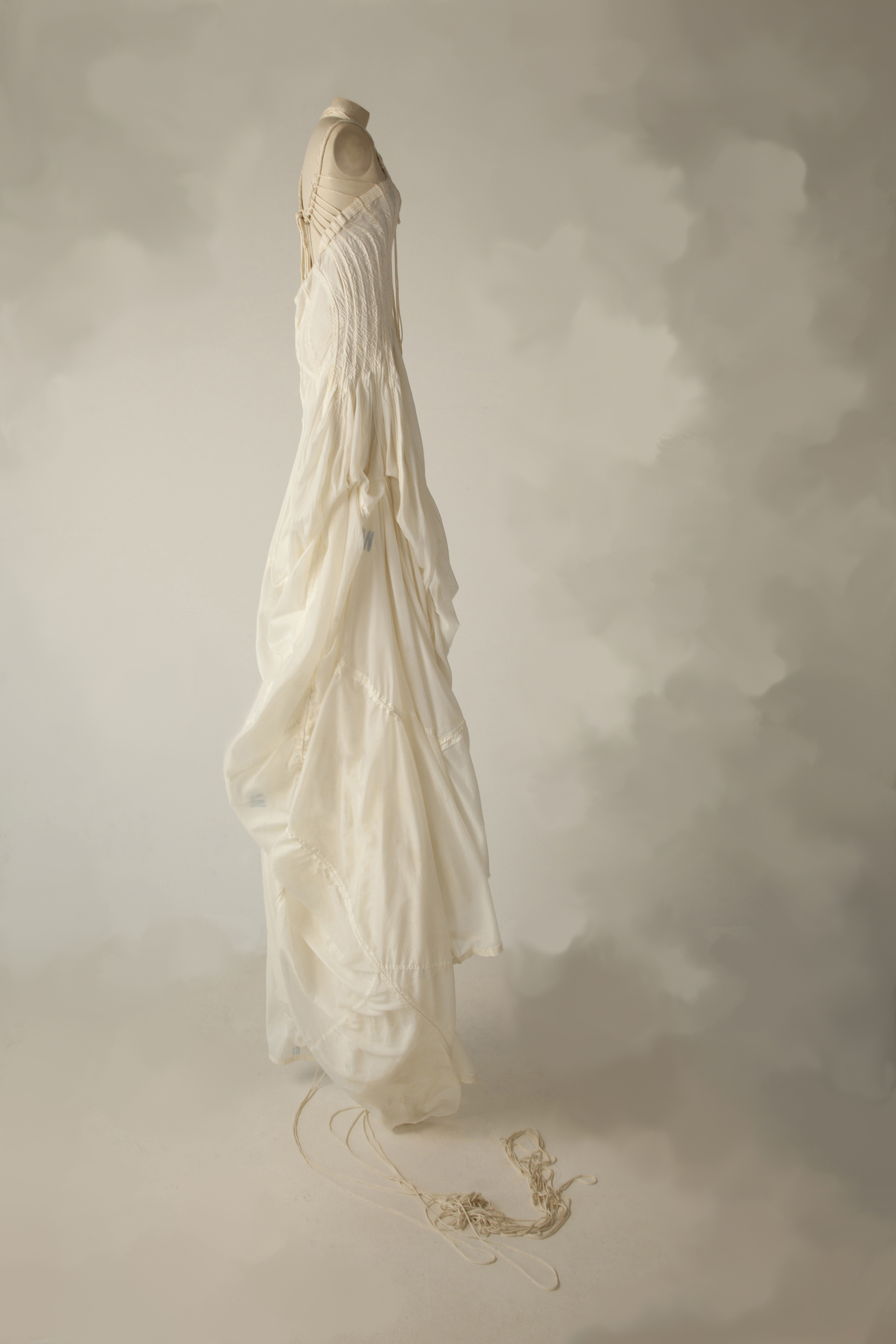 This extraordinary wedding dress was made from an American WWII parachute which was brought to Genevieve by a young couple seeking a designer for a unique project. The groom, who is in the Canadian Armed Forces, used this reclaimed parachute on his final jump in training. As he descended into a swamp, he decided this piece of history was not destined to be retired and, like many soldiers had done during WWII, he brought it home with the intention of transforming it into a wedding dress.
While meeting with the couple, Genevieve felt the attachment they had to the parachute and knowing the history of this exceptional piece of fabric, she decided to use the chute in it's entirety and make no cuts whatsoever. Genevieve also wanted to keep the full integrity of the parachute adding nothing to the dress that was not originally there, the concept being, that if you were to completely take the dress apart it could once again be used as a parachute.
The initially overwhelming amount of fabric was sculpted on the dress-form starting with the bustier, draping one roped panel to another, naturally creating the structure and shape needed for the bust and waist of the dress. The straps, which once suspended the groom, were woven to create the straps of the dress now suspending the parachute from the bride. The remainder of the dress flowed freely with Genevieve's signature draping and mindful design. Original details of the parachute, such as the manufacturers stamp and numbers, were taken into special consideration and showcased in the design. The ropes in the train were left intact so that loved ones could each carry a panel of the dress as the bride walked down the aisle. Every stitch of this piece was sewn by hand and no sewing machine was used at any point in the process. Any machine stitches seen are original to when the parachute was manufactured. (A few 'in progress' shots have been added to the slideshow.)
Price: upon request.
Since the completion of this piece, Genevieve has been purchasing vintage parachutes as she is working on doing a series of dresses. She is currently experimenting with a 1970's American, khaki green chute. To inquire about having a parachute dress made please contact- sales@genevievegrahamclothing.com
Please refer to ABOUT CUSTOM PIECES for full ordering details.